INSTRUCTIONS AND TIPS FOR TEAM MANAGER/LIVESTREAMER:
Login and Setup Camera
After you receive a text invite from your organization admin, create your personal sidelineHD account using Facebook or Gmail. Once logged in you should be routed to your team's sidelineHD HOME page:
On your streaming device install the Larix Broadcaster App from the app store. Once installed, Hit the purple SETUP CAMERA button and follow the guidance on screen.
NOTE:  Once the camera is set up in Larix you can go live directly from Larix for each match.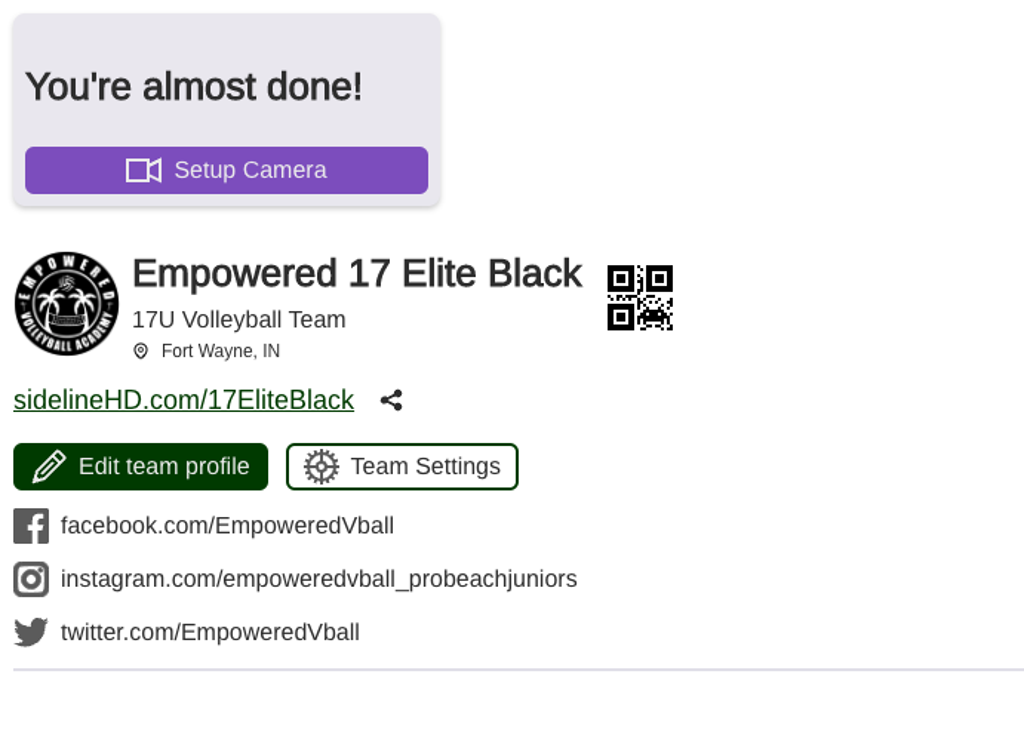 ONCE CONFIGURED PERFORM A GUIDED LIVE TEST, A STEP-BY-STEP WALKTHROUGH TO STREAM AND SCORE.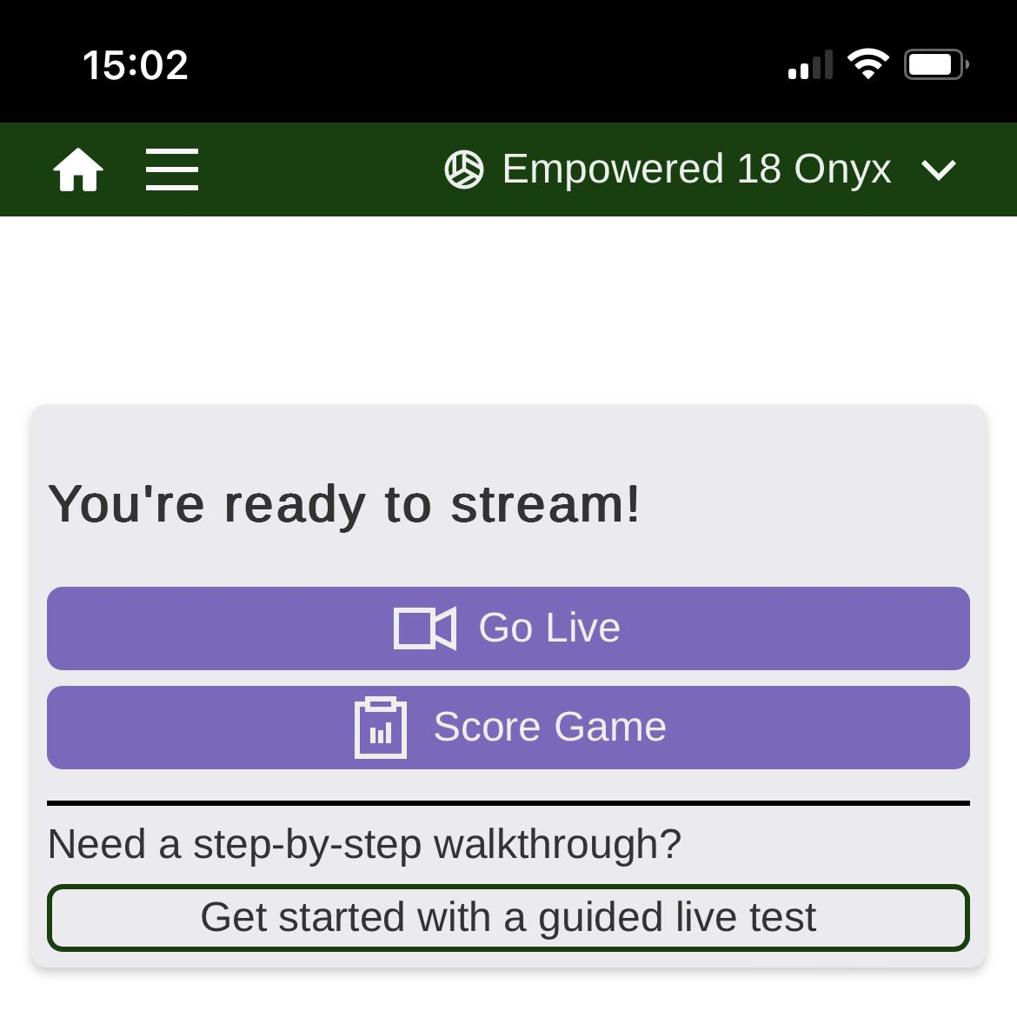 CLAIM YOUR PLAYER/ADD A PHONE NUMBER FOR PLAYERS:
Claim your player on the team by adding your phone number
We recommend sending to 1 person for each player later, the person who claims first will be able to add 2 additional managers.Note: Our team can mass upload one phone number for each player if requested.

YOU'LL RECEIVE A TEXT MESSAGE.
Claiming a player will allow a parent/player to add player-specific information to appear in the Livestream:
Hometown
GPA
Positions
Photo (shows on profile and on the livestream)
2 additional player managers
5 phone numbers for text messages of their best plays (grandma, grandpa, etc.)
Help Docs for your players:
RECOMMENDATIONS:
We recommend one designated livestreamer or team manager also be an administrator of the Facebook group they will be streaming.  Periodically, Facebook will revoke the access token for sidelineHD to stream to your group.  You can establish a new token by unlinking and relinking Facebook on the sidelineHD.com/streaming tab.  We'll send text messages if your access token becomes expired.
ADDITIONAL TABS AND INFORMATION: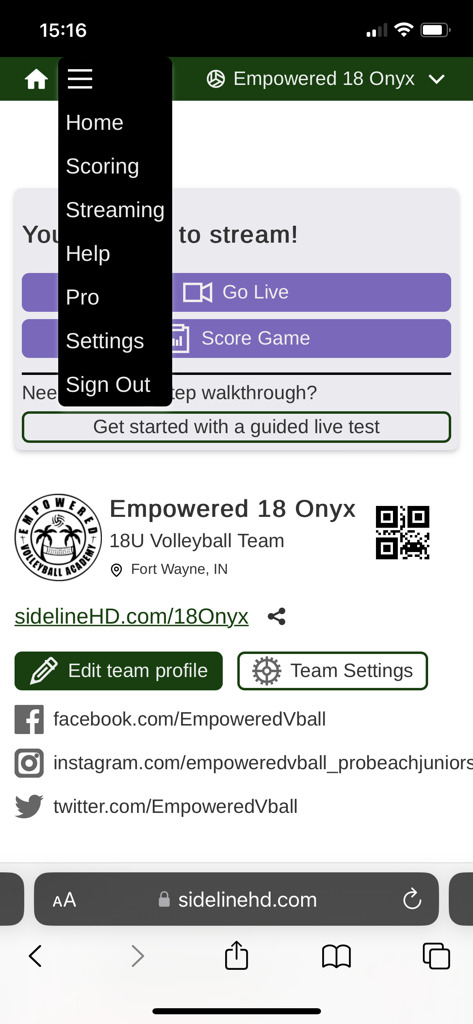 PLAYER PORTAL

Where you manage your athletes profile once claimed. You only need one login to manage the team and your athlete.

SCORING

Create and Score games here
Under SETTINGS - link you can share with anyone to score (no login required).

STREAMING:

Camera Information (indicates which camera is ready to stream)
Sponsor Logo Management
Stream Destination Management
Add Additional Phone Numbers to Monitor Stream Health
INSTRUCTIONS FOR MANAGER #2 OR #3 INSTRUCTIONS IF THE CAMERA ALREADY EXISTS FOR THE TEAM:
Alternatively, if you or another manager has a camera is set up they can do the following to setup their own camera:
New Manager Setup (After Account is Created):
Since you (as the admin/manager 1) have a camera, we need to navigate the new managers to the streaming tab for a one-time camera setup, after it's in their phone/streaming device.  It should stay.
1) Go to: sidelineHD.com/streaming tab and click to add camera.
2) Click on Use My Own Camera
3) Select the Device they wish to use to stream, Smartphone/Tablet, Mevo, GoPro
4) Follow the Prompts on the Screen to set up.
Note if using Smartphone or Tablet they will need to add the Larix Broadcaster App.
Also, prior to going live - you'll want to ensure the right camera is indicated as READY on the streaming tab for the team you plan to stream.