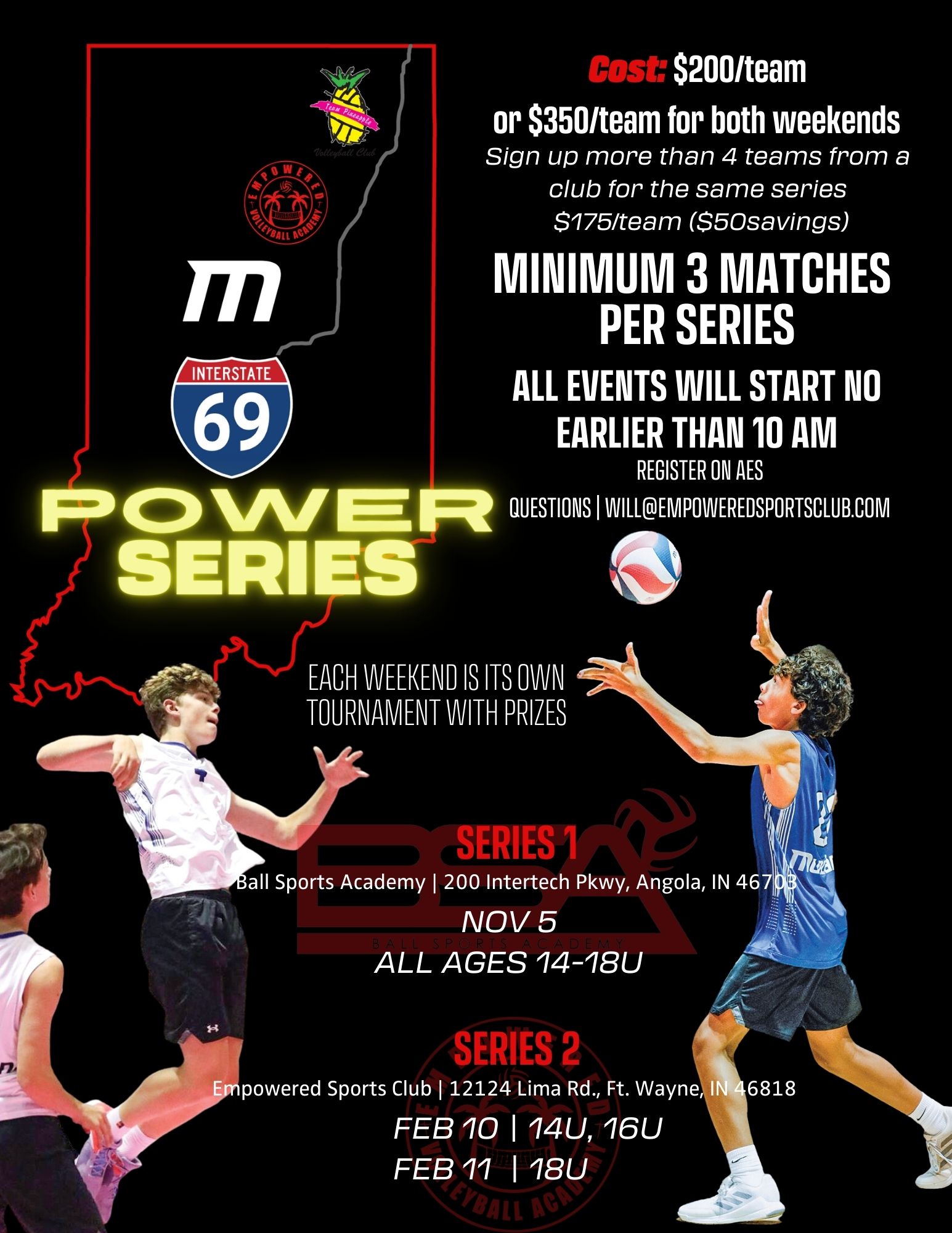 The I69 Power Series combines 3 top partner clubs, at 2 different host sites, into 1 large well-diversified, and talented Power League, with competition levels for all. Whether you are an "Open," "Premier," or "Club" Level Team, these events will be perfect for getting every team the competitive prep they need for the major exposure events!
---
I69 POWER SERIES DATES & AGES AT EMPOWERED
Click One of the Dates Below to Register Today!
REGISTER INDIVIDUALLY OR BOTH DATES
I69PS Guidelines:
Minimum of 3 matches per weekend
The cost is $200 per team or $350 per team for both weekends.
Sign up more than 4 teams from a club for the same series $175/team ($50 savings)
All events will start no earlier than 10am.
Questions About the I69 Power Series?
HOTEL BLOCKS AVAILABLE FOR ALL I69PS EVENTS!
SEE BELOW FOR DIRECT LINKS
EMPOWERED VOLLEYBALL ACADEMY
TEAM PINEAPPLE VOLLEYBALL CLUB
Ball Sports Academy
200 Intertech Pkwy
Angola, IN 46703
Angola Middle School
1350 East Maumee St.
Angola, In 46703
www.teampineapple.com
Wingate by Wyndham Angola
3081 Enterprise Dr Angola, Indiana 46703
(260-665-1010)
Please call the number above and say you are with the "Ball Sports Academy" to the get the best rate. The hotel is 5 miles from the venue: take a right onto Maumee Street to the roundabout then head North on Wayne Street which takes you by the main restaurants/attractions and BSA will be on the left across from Menards/Kohls.