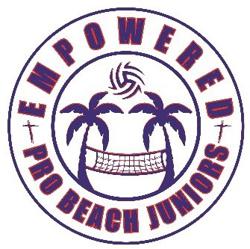 Pro Beach Juniors is the area's premier beach volleyball club. Located at Empowered Sports Club on 12124 Lima Road, we have the area's only indoor sand courts so we can play in the sand all year round, no matter the weather.  Director and Founder William Robbins is also the area's only professional beach volleyball player to ever qualify for the country's top two Professional Beach Volleyball Tours: AVP & NVL.  2014 even saw William crack the top 50 best players in the country, on the AVP, and Top 25 on the NVL.!
Started in 2010, Pro Beach Juniors was the first beach club in Indiana history to have an athlete recruited and receive a scholarship to play Collegiate Beach Volleyball.  Pro Beach athletes have also competed against the best in the country, taking home 2 top 5 finishes at USA Nationals in the Open Division.
If you are looking to learn the game of beach, play beach in college, or just improve your indoor game through the benefits of sand, look no further.  Pro Beach Juniors has everything you are looking for!
10 SIMPLE REASONS TO CHOOSE PRO BEACH?
Training Program Designed by Former Professional and National Team Coaches and Players.
Only Coaches in Indiana with Professional and International Beach Playing and Coaching Experience.
Coach to Player ratio: 1 to 8
Only Beach Club in the area to ever qualify players for USA Volleyball Jr Beach National Tour Championship
Only USA Volleyball Beach Cap Certified Coaches in Fort Wayne
2 hr Practices Include: Elite Level Skill Development & Volleyball Specific Strength Training
Multiple training options for everyone's budget & schedule
Unique Work-4-Credit Program allows everyone to play despite financial constraints
Area's only Indoor Courts, so no chances of Sun Poisoning, Skin Cancer, or Heat Stroke
Only All-Inclusive Program Focused on "Empowering the Mind, Body, and Soul of Champions!"