Parkview Sports Medicine Performance athletic development training is designed to improve Empowered athletes by maximizing their athletic potential. Our structured training program follows a progression from teaching proper technique to maximizing speed, strength, agility and power. Becoming quicker, stronger, more agile and more explosive means better performance on the court.
PSM Performance training also increases your durability and endurance, while helping lower your risk of injury during the club season. We partner with PSM Performance so that Empowered athletes maximize their ability and gain an edge on the competition. PSM Performance has trained dozens of college-bound Empowered athletes, and they can help develop the athletic tools needed to reach the next level.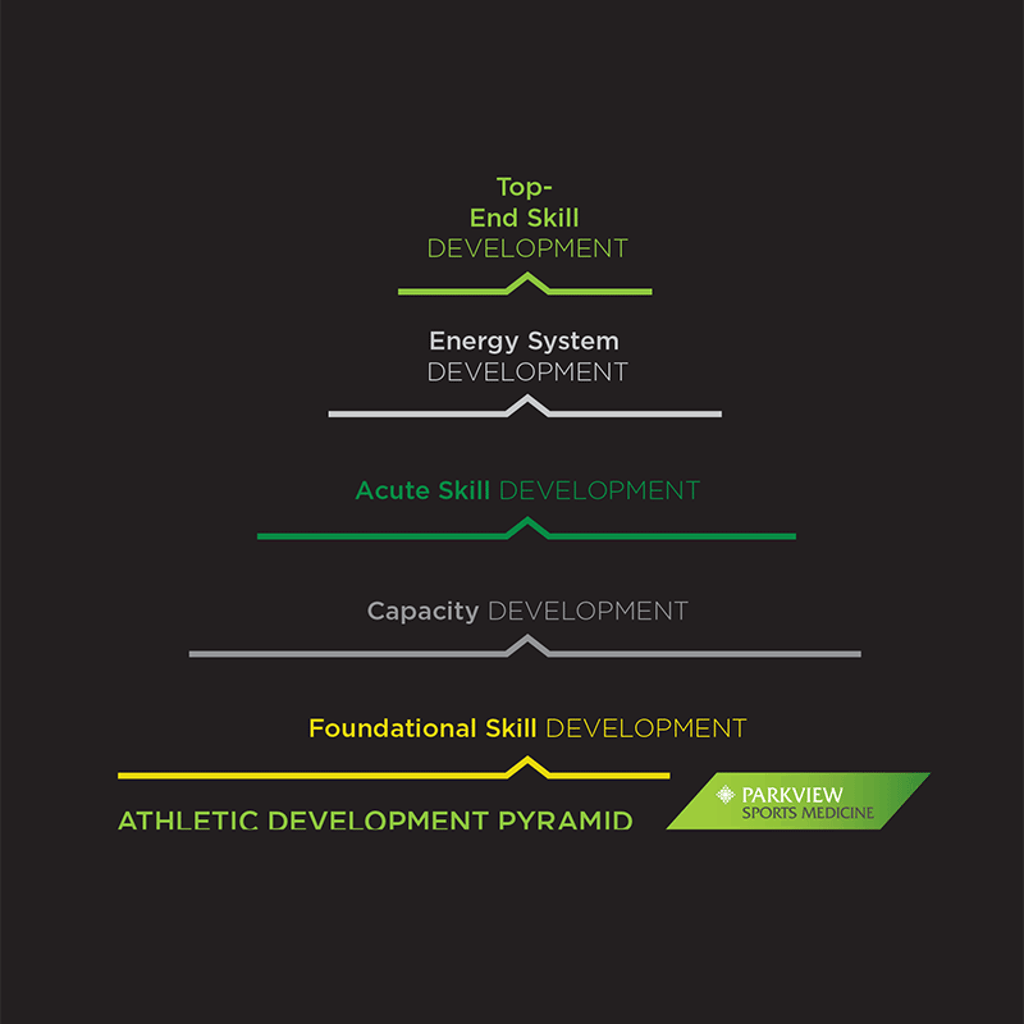 The PSM Performance Training Philosophy
PSM Performance exists to build athletes from the foundation up, guided by our Long Term Athletic Development Pyramid. The pyramid provides a guideline for how we train athletes, beginning with foundational skills and building to top-end performance.
Foundational Skill Development – the building blocks of athleticism
Capacity Development – the ability to perform and withstand the stress of competition
Acute Skill Development – producing force and reducing force (acceleration and deceleration)
Energy System Development – sport-specific conditioning and fitness
Top-End Skill Development – reaching the peak of your athletic capability
SCOTT CHARLAND, MA, CSCS, SCCC PSM PERFORMANCE MANAGER

Scott serves as the Parkview Sports Medicine Manager of Human Performance and is the primary performance trainer for Empowered Volleyball athletes.

Scott is an expert in athletic development. With advanced certifications and over 20 years of experience in the performance training field at the college level, there's no one more qualified to develop our athletes. Scott's background includes:

Strength and conditioning coach at Butler University
Indiana University Health Sports Performance manager
Strength and conditioning coach for Olympic sports at Temple University
Director of strength and conditioning at Saint Louis University
Assistant strength and conditioning coach at The Ohio State University

SAMI KAUFFMAN, MA, RD, CD PSM SPORTS DIETITIAN

Sami has over a decade of experience working with athletes, active individuals and those interested in improving their health and performance. She holds weekly classes with Empowered athletes and their parents to help them use proper nutrition to maximize performance.

A poor or unbalanced diet can interfere with much of the hard work Empowered athletes put into training their bodies. Sami can help athletes learn how to eat in in a way that fuels their performance - something that can give them an advantage over their competition. 

Sami is available for one-on-one consultations for anything from weight management to eating for maximum performance. She also conducts and consults on DEXA body composition scans, which can help you understand your body's unique strengths and weaknesses and help fine-tune your training.

You can reach her by email or phone at 260-266-4007.
Parkview Sports Medicine: Your Integrated Sports Medicine Team
Parkview Sports Medicine goes beyond performance training - thanks to Empowered's partnership with PSM, our athletes have direct access to their entire expert care team. From orthopedic physician experts to dedicated athletic rehabilitation, PSM provides care for every component of athlete care.
ONE NUMBER FOR ALL THINGS PSM: 260-266-4007.
ATHLETIC TRAINERS
PSM provides a certified athletic trainer (AT) for many Empowered training sessions. ATs provide immediate care and diagnosis of injuries, can help during injury rehabilitation and will connect you to other PSM services as needed.
LEARN MORE
ORTHO EXPRESS
Ortho Express is a specialized walk-in clinic at the SportONE/Parkview Fieldhouse providing immediate care for orthopedic and sports injuries. With orthopedic physicians on staff, providing diagnostics, x-ray, injections and even casting in-office, Ortho Express provides quick, comprehensive care for athletes and active individuals.
LEARN MORE
PARKVIEW ATHLETIC REHABILITATION
Parkview Athletic Rehabilitation (PAR) is solely focused on getting athletes back to the court after an injury. With the most certified sports clinical specialists in the region, you're in the most qualified hands when you're rehabilitating an injury with PAR.
PAR's clinics at both Empowered and the SportONE/Parkview Fieldhouse are conveniently located, state-of-the-art facilities where you can focus on getting back to the court.
LEARN MORE
CARE NAVIGATION
PSM care navigators are here to help connect with any and all parts of the PSM team. They'll help coordinate and schedule appointments, answer questions and get you in contact with everyone from our Ortho Express staff to orthopedic surgeons.
LEARN MORE
---
ORTHOPEDICS NORTHEAST
If an injury strikes and requires an orthopedic procedure, PSM partners with the local orthopedic experts at Orthopedics NorthEast (ONE). ONE's subspecialized care model means that you work with one of their SportONE physicians, who are dedicated to repairing athletic injuries and returning them to their sports.
LEARN MORE