Empowered Volleyball Coaches
Head Coach - 17 Elite Black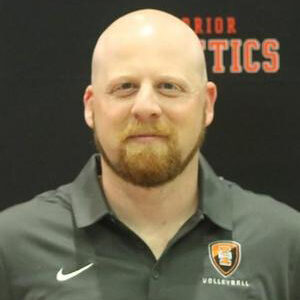 Fishman has a diverse coaching background, including a State Championship with Bishop Chatard High School and collegiately as a volunteer assistant at Indiana University, DOVO at Rutgers University, and then an assistant at Indiana University Kokomo, where he was named River States Conference Assistant Coach of the Year. Fishman helped guide the Cougars to becoming conference tournament champions and two NAIA national tournament appearances, one being the school's first win at the NAIA Tournament Final Site (2020-2021). The Cougars also reached their highest NAIA Coach's Poll ranking of #17 that year while participating in two back-to-back seasons due to the COVID-19 outbreak. Fishman was most recently named assistant to the men's and women's teams at Trine University in Angola, completing the season with MIAA/MCVL tournament appearances and qualification for semi-finals for both the women's and men's teams.
Fishman has shown his dedication to the development of athletes on and off the court by delivering an impressive record of achievements. During his seasons at Rutgers, the Scarlet Knights set eight school records and earned the program's highest national ranking in Team Blocks at No. 2. Five Scarlett Knights were named Academic All-Big Ten List, and one received the Big Ten Sportsmanship Award. At IU Kokomo, Cougars received many accolades, including First Team All-Conference, Champions of Character, River States Conference Player of the Year, AVCA All-Region, AVCA/NAIA Defender of the Year, 2 NAIA All-Americans, as well as an astounding nine Cougars being named River States Conference Scholar-Athlete in 2020-2021.
Fishman was a leader of student-athletes at Bowling Green State University, serving as their setter for the Falcon's men's club team.
Fishman holds a degree from Bowling Green State University, earning a bachelor's degree in Communications with a minor in Visual Communications Technology.
Email: mrfishman@indianatech.edu